Making Your Digital Marketing Strategy Click
At The Marketing Optimist, we're strategy people.
While many clients understand the importance of a strategy for the specific specialism they're seeking our support in (social media, search engine optimisation, digital PR etc), most neglect the importance of an overarching digital marketing strategy.
Quick Definitions: A marketing strategy is not a patchy excel with a smattering of international awareness days, and a few links to events you're running. A marketing strategy is a detailed, specific, and conclusive document that connects your audiences, brand, your offering, and considers the breadth of the marketing vehicles available, with specific targeted aims in mind.
Success starts and ends with a thorough, and considered digital marketing strategy. It's the foundation that helps to guide your marketing efforts, and the anchor point from which to develop effective specialism strategies.
We craft digital marketing strategies all the time. Even when embarking on an unrelated service/project, this is often the starting point, as we find that the essential overarching marketing strategy documents we need to build an effective specialist strategy, and identify specific tactics, don't yet exist. Needless to say, we're well practised marketing strategists.
Interested in speaking to The Optimists?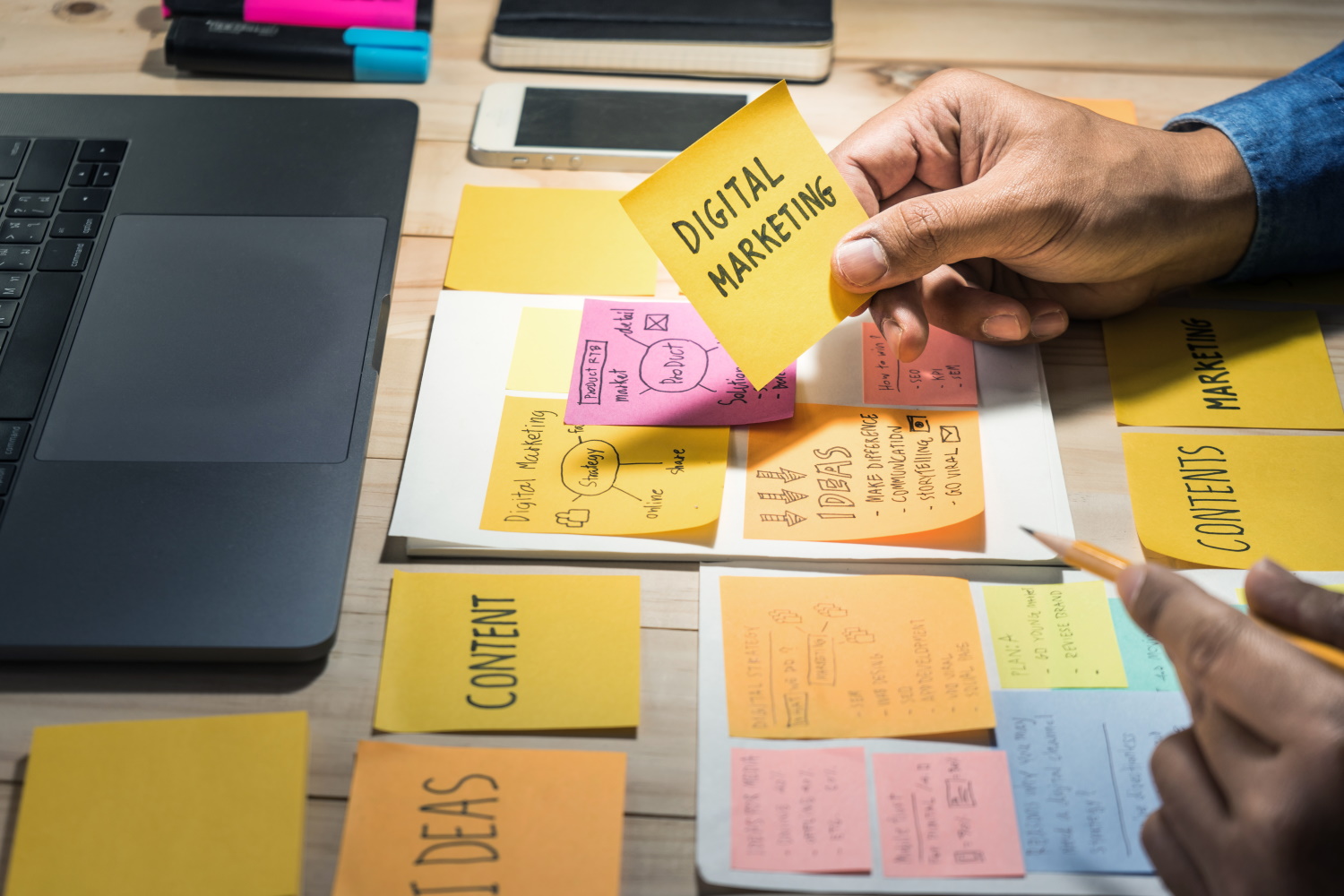 Our Approach to Digital Marketing Strategy
Your wider digital marketing strategy doesn't exist in a vacuum, and nor do the positive results it generates. In fact, an effective overarching marketing strategy that is aligned with your business strategy and your plans for the year, should elevate your business and brand as a whole.
In order to craft such powerful and impactful strategies, we adopt an approach we find to be hugely effective in maximising success in every area of support we offer: we embed ourselves within your business, and become an extension of your internal team.
Our team maintain a close working relationship with you, especially at the beginning of our time working together, to attain the required knowledge of:
Your brand/Business
How it operates
Your offering
The value you deliver and how it's delivered (also including your website and various conversion points)
Your range of audiences
Your plans for the year, as a business, across all your teams.
Your KPI's, both specific to marketing, and those for the wider business which marketing can help to achieve.
Interested in speaking to The Optimists?
Our strategic specialists then take this information, and conduct further research using industry-leading tools, including Google Analytics and SEO Moz to develop it further.
We provide further insight into your range of audiences, in the form of real-life google searches and what these tell us about your different consumers, their range of problems, the relationship they want and expect from your brand, even down to their morals.
From these insights we can get an idea of where in the funnel your range of consumers are when making these searches, to help not only inform your digital marketing strategy, the kind of messaging it needs to cover, the value it must deliver to these consumers, and the optimal vehicle of delivery (Social, SEO, Digital PR etc), but help you to develop and expand the conversion channels you have in place to prepare you for the engagement generated by your strategic marketing efforts.
Market and Industry research is another essential step we take, to audit the marketing efforts of your competition, explore common trends and examples of best-in-industry marketing, gauge your current positioning, and more.
Armed with information collected from you, developed via research, and granted your clearance, we begin populating your 100% tailored digital marketing strategy, considering the different vehicles/channels at our disposal, and the specialist strategies that will need to connect to the overarching strategy we're creating.
Creating a Digital Marketing Strategy that Breathes
A strategy must be a living, breathing document that accounts for future reactive work necessary to enable you to jump on industry topics, and ensure your brand is part of essential industry conversations.
They're also, of course, subject to change and further development, should the business change direction in any way, big or small.
Above all, an effective digital marketing strategy takes care of the technical planning, and provides a guide that enables your marketing team or supplier to focus on delivery, giving them a chance to catch their breath. We can almost hear their sighs of relief.
Our strategies also provide you with the peace of mind that your business's marketing is 100% guided by a tailored, thorough, and sound strategy, crafted by specialists in blending the creative with the highly technical.
Get in touch today to see how we can help create the perfect digital marketing strategy for your business.
Interested in speaking to The Optimists?
Working with The Marketing Optimist has been an absolute pleasure. They have listened and taken time to really understand our audience and gone above and beyond to ensure our experience was extremely tailored. Although we are still in the early stages we began seeing results very early on. Our bounce rate has decreased by 40% and traffic increased steadily month on month.
When we rebranded and created a new website, we sought some external expertise to optimise the content we were creating. The Marketing Optimist were the obvious choice. They provided direction and data to help us create content that not only resonated with our target audience, but also raised our profile on search engines to align with our 'word of mouth' reputation as the leaders in launch excellence.
Frequently Asked SEO Questions
Will my business be committed to a particular contract length?
At The Marketing Optimist, no two strategies are the same, and the time taken to craft these strategies is dependent on a huge number of factors related to your business, industry, offering, and audience, which help to dictate the complexity of the strategy.
For many of the services we offer, we usually recommend a 6 to 12 month commitment, but you'll be pleased to know that we can craft your digital marketing strategy in a significantly speedier fashion, often within a matter of weeks.
However, many of our strategy clients also ask us to help with delivery of the strategy we create for them. We consider delivery of strategy a separate commitment, over a recommended 6 – 12 months, though there are no obligations, or further strings attached to our strategy service.
Who will my business be working with?
Initially, you'll work with our Founder and strategic specialist, Richard Michie, before being introduced to our SEO, Content Manager and strategist, Chris Fox, who will help to form your strategy. Richard and Chris work closely with you to form a strategy that well and truly clicks.
How will communication work for such an essential and detailed project?
Communication runs through our approach to everything we do at The Marketing Optimist. We work closely with you, becoming an extension of your internal teams, via regular Zoom meetings to pick your brains in discovery, learning everything there is to learn to enable us to form the perfect, thorough digital marketing strategy that connects your marketing to your wider business goals.
We can hold meetings at a frequency dictated by you, and will always do our very best to accommodate you when reactive meetings are required. We can also keep your team fully in the loop, sharing our progress via email. Like we're on the desk beside you.