LinkedIn only added hashtags very recently; far behind Twitter and Instagram in social media terms.
What do Hashtags do on LinkedIn?
Hashtags help to group content together so that all posts using the same hashtag searched and followed by LinkedIn users. Lots of long-time users of LinkedIn were, and in some cases still are, against the use of hashtags on the platform as they feel it makes it too much like all the other non-professional social media sites.
It's easy to see why LinkedIn has adopted hashtags. Before they were added, content lay in silos and was difficult to find and group. This led to stagnation on LinkedIn in terms of content spreading and users making more useful connections, which after all, is what the site is all about.
How should you use Hashtags on your LinkedIn posts?
Unlike Instagram where you can and should add up to 30 hashtags to posts, less is more where LinkedIn is concerned. We recommend sticking to two or three targeted tags per post and adding them right at the end of your content. This way, they don't interfere with your message, your post will look nice and clean, and if your message is long enough, they may not be seen at all.
On that last point, it's not a problem if your hashtags aren't seen by other LinkedIn users, the tags are mainly used by LinkedIn. Having said that, users can click on a hashtag to be able to follow it.
As always with advice on social media marketing, ensure you experiment with the placing of your hashtags to find out what works best for you and your business.
How can I find the right hashtags on LinkedIn?
To use hashtags effectively you need to be sure you're using the right ones.
LinkedIn does give you a few clues when you begin writing a post by suggesting relevant hashtags based on the content of your post and your history of using them. This is a good place to begin but, unfortunately, this doesn't give you any idea of the number of people who are following tags.
Identifying the number of people using and following a hashtag is a little harder on LinkedIn. But don't worry, this post shows you exactly how to find and create your own collection of LinkedIn hashtags.
Use the search function to look for your most likely hashtag. It's best to begin with a broad term. We used #digitalmarketing, which has over 27 million followers.
From here you can follow the hashtag if it's the right one for you.
You can then find more related hashtags to follow by clicking on the three dots in the corner of the box.
Click on 'Discover New Hashtags' to see all the related hashtags to your search and the volume of followers they have. Here you can select all the tags that you'd like to follow.
To help you use the correct LinkedIn hashtags going forward, open Word or Excel and begin to copy and paste the hashtags you want to use for you LinkedIn posts.
Keep this file handy so that you can easily refer to it when you post, ensuring you always have the right ones in your armoury.
Review this list every few months and add or subtract hashtags as they become more or less useful.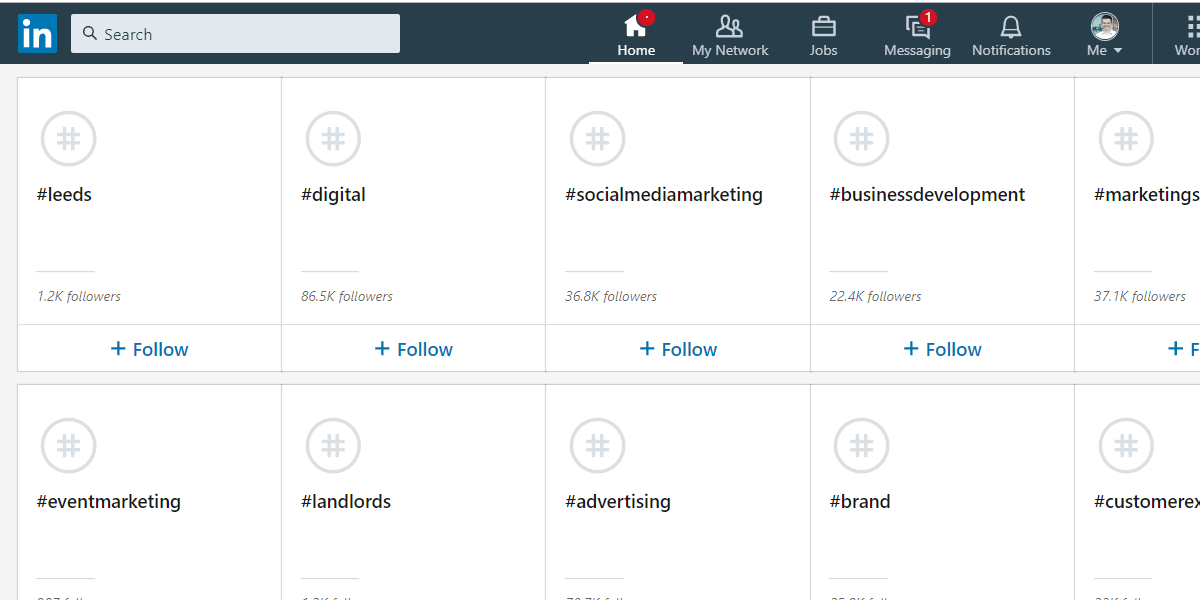 Are the hashtags with the highest volume always the best?
No. If a hashtag has millions of followers, that doesn't mean it's the best one for you. Yes, it's popular, but at that volume it may be too popular, and your LinkedIn posts will be lost in a mass of others.
There's no golden rule, but if you can find hashtags which closely fit your niche market, you'll fair better than going for the generic blockbuster tags. This is the same long-tail principal as Search Engine Optimisation where the broad terms actually bring you less traffic and qualified leads than the more niche terms.
If you'd like your marketing to be more effective on LinkedIn give us a call on 0113 477 1210 or fill in the form below.